Inpatient Care
Inpatient Care in Rancho Cucamonga, CA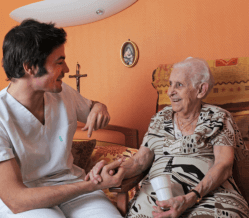 At St. Francis Hospice Care, we accept requests for Inpatient Hospice Care. This type of care is ideal for individuals who choose to spend their final days in a hospital setting or any institutional care facility they prefer. Our hospice care nurses and/or volunteers will visit you at designated schedules to provide personal care and emotional support.
Provided by hospice professionals, nurses, or Home Health Aide in Rancho Cucamonga, CA, our services usually cover:
Aid with ADL
Assist with Evening and Tuck-in
Mobility Support
Cheerful Conversation
Dressing Assistance
Meal Preparation Assistance
Light Housekeeping
Safety Supervision
Incontinence Care
To request for hospice care services, please call 909-989-5383. Or, you can send a message to St. Francis Hospice Care via our contact form.