Palliative Care
Palliative Care in California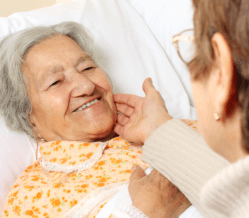 St. Francis Hospice Care provides Palliative Care that will be personalized to your health situation. We take direction from your physician and will tailor your hospice care plan according to your existing medical treatments.
Palliative care is not about end-of-life care, it is about living with the illness. At St. Francis Hospice Care, we work with your physician to try to control symptoms and help our patients and their families to make decisions that yield the longest life with the best quality of life, whether it be a few weeks or many years.
With the intention to improve your overall quality of life, our nurses and Home Health Aides in Rancho Cucamonga, CA provide you with these Palliative Care services:
Hospital Companionship / Sitter Services
Pain Management
Diet Monitoring
Supplementary Therapies
Hospice Volunteer Care
Medical Equipment Access for Home Use
Respite for Family Caregivers
To request for hospice care services, please call 909-989-5383. Or, you can send a message to St. Francis Hospice Care via our contact form.