About Us
Hospice Care Provider in California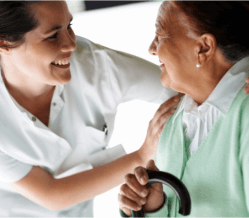 St. Francis Hospice Care is committed to its Mission Statement:
To make each day meaningful that our patients may live their lives to the fullest; we promote your dignity and we respect your individuality.

St. Francis Hospice Care

is here to preserve who you are even in the last days of your lifetime.
St. Francis Hospice Care is a privately-owned and locally operated hospice care provider based in Rancho Cucamonga, California. With our team of Home Health Aides in Rancho Cucamonga, CA, we care for patients who have been diagnosed with terminal illnesses which cause their shortened life expectancies.
We provide symptom management, pain relief and emotional support. We handle hospice cases where there is no longer a recuperative treatment possible – so we resort to giving our patients personalized care that enhances their quality of life at home or any hospice setting they choose. The team of nurses, care coordinators, medical social workers and volunteers are standing by to help patients and their families push through this very demanding and strenuous point in time.
We hope that we will make a positive difference in you. St. Francis Hospice Care is available for consultations or health management needs assessments. Please contact us at 909-989-5383.
Non-Discrimination Policy
St. Francis Hospice Care is an equal opportunity employer and services provider. In practice of Title VI of the Civil Rights Act of 1964, Section 504 of the Rehabilitation Act of 1973 and Title II of the Americans with Disabilities Act of 1990, we do not discriminate nor shall we deny services from any individual employee or client on the grounds of race, gender, disability, color, national origin, age, religion, sexual orientation, parental status, marital status or veteran status.