Hospice Care
Hospice Care in Rancho Cucamonga, California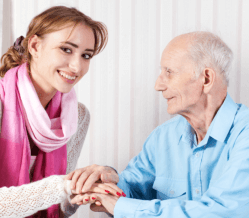 We encourage patients to live their final days to the fullest. Just because your illness has shortened your life expectancy, it doesn't mean that all hope is lost. There is still hope to make each day more meaningful. Let us make each day matter more for you and your family.
Hospice Care provided by St. Francis Hospice Care will be holistic in the sense that we touch all facets of personal skilled care involved. To provide you with structured care as you face a terminal illness, our team of nurses and Home Health Aides in Rancho Cucamonga, CA will arrange for:
Skilled Nursing Care
Hospice Aide and Caregiving Services
Pain Management
Bereavement Services
Comforting Massage Therapy
Spiritual Support
Physician Prescribed Care
Training in the Use and Maintenance of Hospice Care Equipment
Medication Therapy Management
Supplementary Therapies
Personalized Home Care
To request for hospice care services, please call 909-989-5383. Or, you can send a message to St. Francis Hospice Care via our contact form.